Happy April, Go Local Loyalists!  I'm so excited about this month. First, Go Local is sponsoring two events in April and we'll be announcing two more events later in the month. Yes, for those who noticed, Go Local is hosting and sponsoring more events. This flurry of activity is based on your feedback where, after post-Covid lockdowns, social distancing and reduction in socializing and networking, you told us you would like Go Local to help rebuild a sense of community. So here we are! After a shoutout to our new business members, take a look at what's coming up next week as well as other news we'd like to share!
Oh, and by the way, our co-sponsored Workshop with the Asheville Chapter of AIGA was a big success and I want to thank our partners over at AIGA, as well as Mountain BizWorks and Venture Asheville. And thank-you to our speakers and for all who attended and made it a fun, informative event. Here are a couple of photos, courtesy of John Hornsby, Vice President of AIGA. Enjoy!
Top photo: Sara Benoit presenting Branding vs. Marketing
Bottom photo (l to r): Jenny Fares, Franzi Charen, Renee Hartwick and Sherree Lucas in a panel discussion on Go Local branding (recognize all those mascots?!?)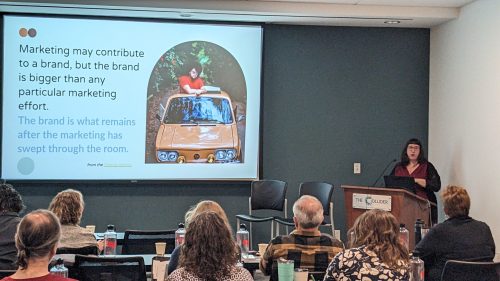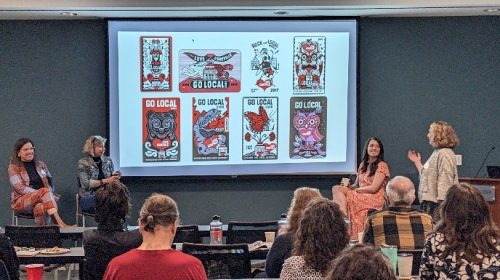 Welcome to our Newest Go Local Members!
We're so thankful to all of our beloved business members and want to officially welcome our March 2023 Go Local Members to the Movement. You can find them now in our on-line directory and smartphone app.
Vitality with Alma – First 60-minute energy healing session $75 (reg. price $100)
Scribble Pie Studio – $250 off a VIP Design Day or $50 off a Website Template
Red's Junk Removal – 15% off ANY junk removal!
Dynamic Detailing Asheville – 10% off on any interior/exterior package deal
Daphne's Catering Co –  10% Off 1st Catering Order (over $50)
What's The Idea – Free Brand Assessment using Brand Strategy Tarot Cards.
Living Wage and Living Wage Certification Zoom Presentation
Just Economics recently released their new living wage calculation for 2023. It is now $20.10, up from $17.70, a 13.5% increase. Along with the increase, they have also released a new two-tiered certification process for businesses who want to pay a living wage but can't make that jump in wages over night. Currently, Go Local has approximately 100 businesses that were living wage certified in 2022.
Living Wage adjustments impact many of our Go Local business members and their employees. Just Economics is one of Go Local's business partners so we asked them if they'd do a video-conferencing presentation for us to walk through the calculation of how they arrived at $20.10 and the new two-tiered certification process. They agreed and we have a zoom call set up for April 17th at 6PM. Please register here to attend.
Go Local Night April 18th at Asheville Tourists Game!
Woohoo! I'm so excited to share that Tuesday, April 18th, is the Asheville Tourists Go Local Night! Come watch the Tourists vs. the Winston Salem Dash and be part of the Go Local community! If you're a Go Local business member or cardholder, you can buy a $5.00 reserved level ticket (plus processing fee) on-line using the discount code GOLOCAL. This code if valid for up to 8 tickets. This offer is only good for on-line tickets, not for gate ticket sales.
And, if you're a Go Local business member, you can enter your business name to be recognized on the PA system during the game! Just email me at [email protected] that you'd like to be recognized and I'll make sure the info gets to the Tourists!
Join me and other business members and cardholders to cheer on our local team and enjoy a night at the ballpark!
I can't wait to see you there!
Things We Want to Share
There are always so many things we want to share but due to space and reader fatigue, I try and keep it to the ones I believe to be the most relevant to our readers. This month, we're just focusing on one…the Plastic Reduction Community Survey. We hope to be rewarded for our brevity with many survey respondents!
Plastic Reduction Community Survey –   On January 10, 2023, City Council adopted a revision to City Code Chapter 15, which bans the use of plastic leaf bags.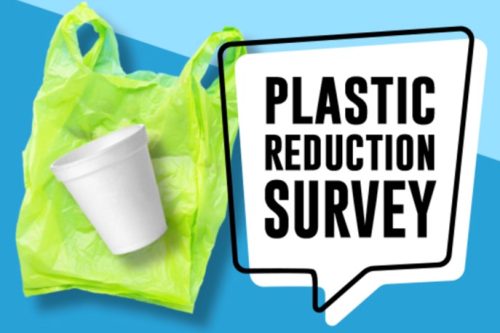 As City Council continue to look into single-use plastic reduction initiatives, they would like your feedback. Community members who live or own a business within the city limits of Asheville are invited to take this short survey to help inform next steps and recommended actions.
You may take this survey from the perspective of a business owner (or representative of a business), from the perspective of a city resident, or from both perspectives (a business owner and a resident). Any way you choose to proceed, the survey will begin with 7 general questions that all survey participants will be asked to answer.
The survey will close on Sunday, April 30 at 11:59 pm.
A Look at Asheville Celebrates 20 years!
Yes, for those of you who read the newsletter, you did see this post last month. But since they're getting ready to close the opportunity, I wanted to rerun from last month.  Thank-you for reading on!
A Look at Asheville, a Go Local business member, celebrates 20 years this August! We are so proud to be featured in the beautiful coffee table publication and partner with an organization that focuses on supporting local. I know some of our business members already advertise in this local publication. But if you aren't currently and are looking to expand your brand awareness to Asheville's visitors and locals, consider partnering with A Look at Asheville. This woman-owned high-quality publication showcases everything from Health & Wellness, Home & Living, Gifts & Shopping, Arts & Crafts, Dining & Nightlife, and Adventure & Attractions. Find the 2023-2024 edition this August! If you're interested, contact Kendra Payne at [email protected].