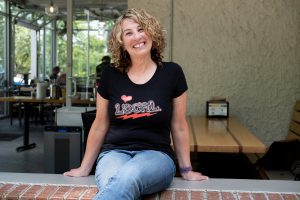 In 2018, Sherree and her husband of 31 years, Bob Rose, knew they were ready to make a move. With a desire to be closer to family, they were looking for a new community to call home. While visiting they fell in love with everything Asheville; shops, music, local artisans, the mountains and the way the community appreciates the local businesses. A few months later they made the move.
Sherree Lucas sat down with Franzi Charen for the first time in early 2019. Having recently relocated from the San Francisco Bay area, Sherree was eager to get involved in her new community. Their relationship bloomed that day at High Five Coffee on Broadway.
"Like everyone else who has met Franzi, I was smitten from the beginning. She is so passionate about the local independent business community and that passion is contagious. I knew I wanted to be involved with Asheville Grown."
A professional marketer with 25 years of experience plus an MBA from New York University, Sherree loves the challenge of small business and startups. Franzi seized the opportunity to utilize Sherree's experience and put her to work. Sherree created a survey for business members and Go Local cardholders to determine the best ways the program could grow and improve. The survey was tremendously helpful and Franzi invited Sherree to serve on the steering committee. After two years of volunteering, on July 1, 2021, Sherree will become Franzi's successor as the Executive Director of the organization.
Since arriving here, she has also volunteered with SCORE and Mountain Bizworks mentoring and coaching entrepreneurs and small business owners. Additionally, she dedicates her time and talents to AARP Mountain Region and has developed a course for people over 50 considering starting a small business. She is also a recent graduate of Leadership Asheville.
As a steering committee member, she saw the benefits the Go Local movement provides our community. "I've thought from the beginning that Asheville Grown mirrors the uniqueness of Asheville and all that makes our city so special," Sherree shares.
With this perspective, Sherree readily considered taking over when Franzi shared she was stepping down from heading Asheville Grown. "Franzi knows my passion and desire to take over from where she leaves off; to continue the vision of building this organization; increasing cardholders, business members, and raising money for Asheville City Schools. But most importantly, to continue to evangelize the importance of local independent businesses to the health and vibrancy of Asheville."
Sherree enters the position with good guidance in hand, with a second survey of businesses and cardholders recently completed. "These results will help us lay the path for future growth and to focus on what matters most: supporting  Asheville's local independent business community." Her first step is to officially change the name from Asheville Grown to the more memorable Go Local Asheville, bringing the mission front and center. With a treasure chest of more good ideas, Sherree is thoroughly embracing her new role.
We're beyond excited for the future of Go Local Asheville and encourage you to extend a warm welcome to Sherree. She can be reached at [email protected].