Hello Go Local Loyalists,
It's May, which means lots of great outdoor weather, beautiful spring flowers in bloom, trees budding and lots and lots of pollen. Achoo!! Yep, as much as I love May for its colors and low humidity, I hate the allergies. Achoo!! But you didn't open this email to read about me sneezing, so let's jump into some exciting stuff!
You told us you wanted a digital card and we created one for you! First, if you have the print card, you're good for the rest of the year! But please share the great news for those who don't have a 2022 Go Local card yet. The digital version is now available to purchase through the Go Local Asheville app, for both Apple and Android smartphones! Here is what the digital card screen looks like on your app.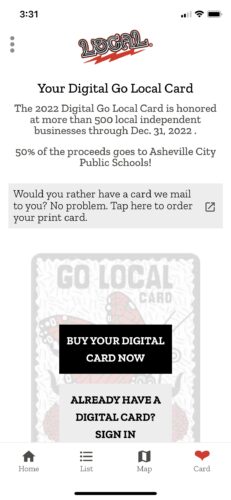 Here is how you find it. When you open the app… just click on the "Get Your Go Local card" in the upper right corner of the home screen. If you don't see the screen above, go to the App Store in your settings and turn on "App Updates." You'll want to make sure you close the app first and then reopen it after you've updated.
Here is what it looks like after you've purchased: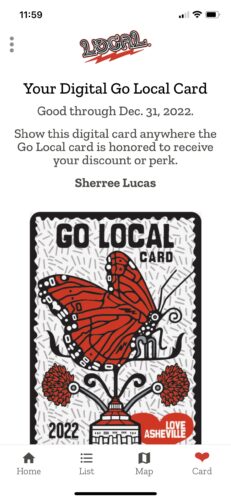 If you have any problems at all, please email me at sherre[email protected] and we'll walk through it together.
Thank-you to FullSteam Labs for the development of the digital card and to all of our testers who helped get it to market! And thanks to all of you for your support of Go Local!
————————————————————
Welcome to our Newest Go Local Members
I know that not everyone gets through our entire newsletter. I get that. I can be wordy and life is too short. But I do want to make sure you see our newest Go Local business members. So check them out, as well as their special offers to Go Local Asheville cardholders. We're so thankful to all of our beloved business members. Welcome to the Go Local Movement! Over 570 businesses and counting!
Green Mountain Space  – $75 off products when you purchase a 24 hr package.
Tupelo Honey – 10% Off Your Check. Dine-in only. Limit one per table.
Elevated Kava Lounge – 10% off your tab and free samples
Ginger Huebner Art – We offer 10% off any of our workshops with a Go Local card!
And, extra exciting, Ginger Heubner, one of our newest members, just heard that her TedX Asheville talk was chosen for the TED.com and the TEDx Editor's choice. Congratulations, Ginger!
You can find her talk here. And…she is having an Open House on June 22, 2022 from 5-7pm that will offer folks opportunities to see her new space, work, and connect about her Create + Connect experiences and collaboration opportunities.
———————————————————————–
An Upcoming Go Local Sponsored Workshop
I'm excited to share that Holly Fisher, owner of our Go Local business member Fisher Marketing Creative, is going to lead a workshop on marketing messaging, one of the cornerstones of good marketing. The date is June 14th and it will be our first live event in a year…the last one being when I was introduced as the new Director of Go Local. Wow, how time flies! Anyway, here are the deets and we hope you can join us. Seats are limited so sign up early!
Name of Event: Clarify Your Message So Customers Listen
Short description: Are you looking for help in being clearer and more concise on how you talk about your business to others? Holly Fisher of Fisher Creative Marketing will help you craft messaging for your business so people will listen.
Long description: When it comes to talking about their businesses, many people are so close to their products or services they don't know where to start. The StoryBrand Marketing Framework helps companies understand what customers are looking for, so they can tell their story in such a way people listen.
The human brain is drawn to clarity and away from confusion. If customers are confused about what you offer, they'll look past you for somebody who can say it clearly. Get an introduction to the 7-part StoryBrand Marketing Framework to see how creating a clear message will help you connect with customers and grow your business. Plus, learn how you can use this framework to create a one-liner for your business that prompts people to say, "Tell me more!"
Holly Fisher is the owner of Fisher Creative Marketing and a StoryBrand Certified Guide. She's helped dozens of organizations create a clear message and develop an effective sales funnel that generates more leads and boosts their bottom line.
Date: June 14th
Time: 8:30-10AM
Cost: $16.75 (includes tax and service fee)
Location: Focal Point Coworking, 125 S. Lexington Ave, Suite 101, Asheville, NC 28801
Link to Register: https://www.simpletix.com/e/clarify-your-message-so-customers-listen-t-tickets-106318
Hope to see you there!
——————————————————–
If you have any comments, or would like to suggest a story or event to include in our newsletter or on social media, please email me at [email protected]
Download the Go Local App (https://golocalasheville.com/go-local-asheville-mobile-app)
Become a Go Local Business Member (https://golocalasheville.com/join-the-movement)