press release 6/9/2021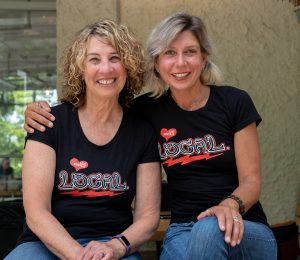 Franzi Charen, a passionate advocate of preserving Asheville's  unique, local culture as founder of Asheville Grown Business Alliance's grassroots organization Love Asheville Go Local!, has announced she will step down as executive director after 12 years at the helm.
Sherree Lucas, a seasoned marketing executive and small business consultant who relocated to Asheville in 2019, has been named Charen's replacement. Lucas has spent the last two years on the steering committee of Asheville Grown and is intimately involved in their work.
Under Charen's vision and guidance, Asheville Grown has been one of the city's true success stories with memberships soaring from 12 participating businesses in Year One to more than 560 currently and individual Go Local card-holders cresting over 4,000.
"After devoting more than a decade to this effort, I feel it's time to let someone else lead Go Local into a new era," said Charen, who continues to co-own the vintage-inspired-clothing store, Hip Replacements (72 N. Lexington Ave.) in downtown Asheville. "I have had the pleasure of working closely with Sherree during the past two years. As a volunteer, she has provided invaluable business expertise and hands-on work to help grow our footprint in the marketplace. With her knowledge, expertise and passion, I cannot imagine a better person to transition us to a new chapter in our organization."
Boasting more than 25 years of marketing experience, Lucas has served as founder and president of Lucas Strategic Consulting since moving to Asheville from Berkeley, Calif. two-and-a-half years ago. In that capacity, she has helped start-up and small businesses market their products in Buncombe County and the southeast region of the United States. In addition, Lucas has taught entrepreneur classes, sponsored by Western Women's Business Center, AARP Mountain Region, Small Business and Technology Development Center and SCORE. She is also a SCORE mentor, a Mountain BizWorks coach, a graduate of Leadership Asheville and a committee member of the Montford Neighborhood Association.
"I've loved Asheville since the first time we visited in 2018," said Lucas. "A large part of what makes this area so unique is its tight knit local business community. Shortly after moving here, it became my dream to be able to help sustain and build  this spirit of entrepreneurship in my new hometown. I cannot thank Franzi enough for trusting me with this exciting opportunity in an organization that plays a vital role in growing local businesses while preserving the special identity that is Asheville."
Asheville and Buncombe County businesses can join Love Asheville Go Local for free, while it costs $18 annually for individuals to obtain Go Local cards, which provide special offers and discounts at various local independent businesses downtown and throughout the county.
Beyond preserving the local culture, a large part of Charen's legacy is the card program, initiated in 2012 with 50 percent of proceeds donated to public education. It has generated more than $175,000 for Asheville City Public Schools over the past nine years. Marketing efforts have expanded, resulting in a 25 percent increase in card sales and increased community awareness.
"Asheville is indebted to Franzi for recognizing the need for a local independent business advocacy organization and the leadership and initiative she has shown over the past decade," Lucas added. "It's my goal to continue in her footsteps and build on the foundation she has created."