Local Social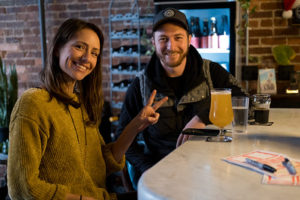 Save the date:
You're invited to the grand finale of Go Local Week at a FREE joint celebration of the brand new LEAF Global Arts center and The Block off Biltmore, downtown!
At LEAF Global Arts Center
Come explore the brand new immersive, global music and art experience located in the historic Club Del Cardo.
Enjoy award-winning craft beer from Archetype Brewing, select wines from Asheville Wine Market and treats from our French Broad Food Co-op.
Shake your booty to the groovy tunes by DJ Delight downstairs in the Global Sound Underground.
At The Block Off Biltmore
Treat yourself to scrumptious vegan dishes by Sacred Life Comida
Learn to dance salsa! DJ Edi Mapache will be spinning the beats while Emily Hamilton shows you the moves.
We're providing two lessons at 5pm and 5:30pm.
Imbibe delicious cocktails or local brews at their full bar.
Attendees will have the opportunity to enter a drawing for two 3-day passes to the Love Shine Play yoga festival and the Ultimate Staycation Package from Diamond Brand.
We will also reveal its brand-new logo designed by Sound Mind Creative at the event. Attendees can purchase locally made Spiritex sweatshirts and t-shirts with the new design, printed by Asheville-based screen printer Image 420 and some fun trucker hats and stickers printed by Asheville Screen Printing.
Many thanks to the sponsors of the Local Social including: LEAF, Archetype Brewing, Asheville Wine Market, Phoebe & Vann, French Broad Food Coop, Blue Moon Water, the Mountain Xpress and the LoveShinePlay yoga festival.