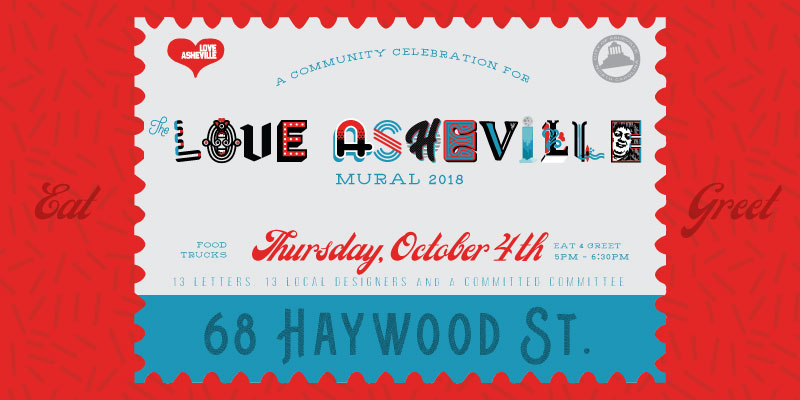 Thursday October 4th, 5pm
68 Haywood St., Asheville, NC 28801
Across from the public library in Downtown Asheville
We're joining Jenny Fares of Sound Mind Creative, the City of Asheville and the Asheville Downtown Association to celebrate the new LOVE ASHEVILLE Mural at 68 Haywood, created by 13 local artists and designers. Join us!
This event is FREE but we'd love to know if you're coming.
The mural is up on the retaining walls of the downtown park at 68 Haywood and we want you to see it and meet the makers and planners. We plan to take photos together and invite some food trucks to join us. Please bring your friends and co-workers!
What is it? A Temporary Public Art Project developed by an ad-hoc committee that included representatives from the Haywood Street Advisory Team, Downtown Commission and Public Art and Cultural Commission. The resulting piece is a 156 sq. ft. mural is painted on panels and installed on the south wall of 68 Haywood St. The panels together read "LOVE ASHEVILLE." Each letter of the 13 panel mural are uniquely designed by a different local design agency or graphic designer, with the overall theme reflective of Asheville Grown's brand and on-going campaign to support local businesses. Coordination with the designers was led by Jenny Fares of Sound Mind Creative and Asheville Design Salon.
Here's a list of the participants: 828 Design (Tom Petruccelli), Atlas Branding, (Lisa Poteat &Taylor Sutherland), Curve Theory (Reggie Tidwell), Dena Rutter Design, Element Advertising (Matt Levin). Gigantic (Scott Smith & John Horsby), Harkness Design (Marc Harkness), HNYCMB Creative (Tim Scroggs), Homestead (Eric Pieper), Image 420 (Brent Baldwin), Martha Skinner & Sophia Arbelaez, Novus Architects (Sydney Gilmore), Project 13 (Richard Norris), and Sound Mind Creative (Jenny Greer Fares).