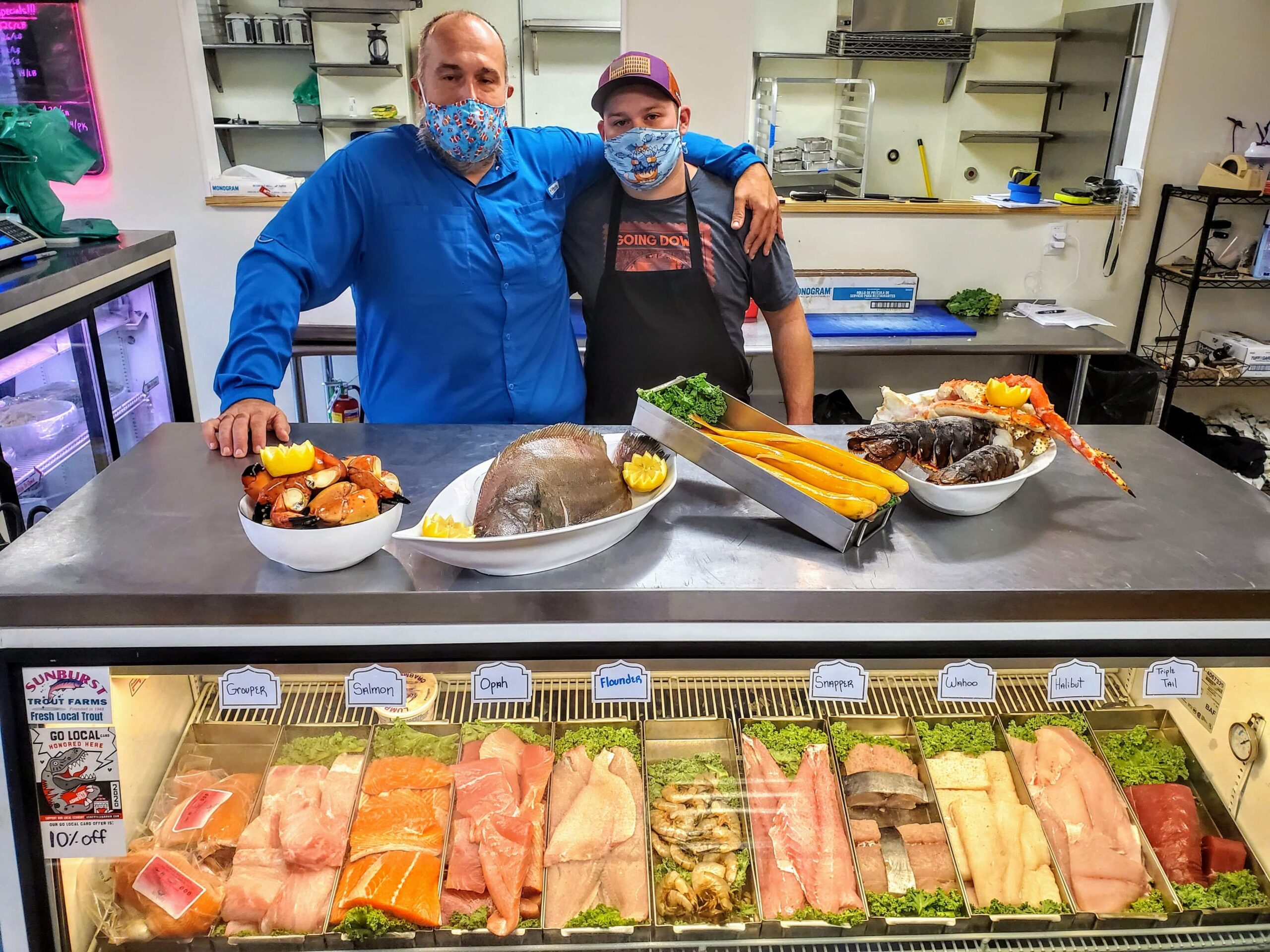 Reinvention, in the life of an entrepreneur, is often vital to success. Sam Kosik (pictured left) and the story of Mother Ocean Market is particularly inspiring.
In 2014, Sam felt the need to reboot his life. Having worked in Asheville as a sales representative for Southern Foods in his 30's and a chef before that, he was ready for something new. He saw a need for fresh seafood in Asheville and went for it.
Sam planned to utilize his local restaurant connections to supply them with seafood but soon found he couldn't compete with larger suppliers. Restaurants were ordering seafood before it was caught and having it delivered by 18-wheelers. He pivoted and shifted his plan.
His new idea was rigorous; driving to Surf City, NC and back once a week on Wednesday, then cutting and packaging fish before selling on Thursday. He first sold at local tailgate and farmers' markets. Having made friends with Eric Scheffer, owner of Vinnie's Italian, Sam started selling in his parking lot as well.
At this point, Sam had one Toyota Sequoia and 2 employees working 6 different markets in 5 days. It wasn't long before he envisioned making the same living with less labor. He found a company that single sources seafood.  One man, who owns 3-4 commercial boats, phones Sam with the current catch. He can purchase cut and packaged seafood that arrives in Asheville less than 24 hours later.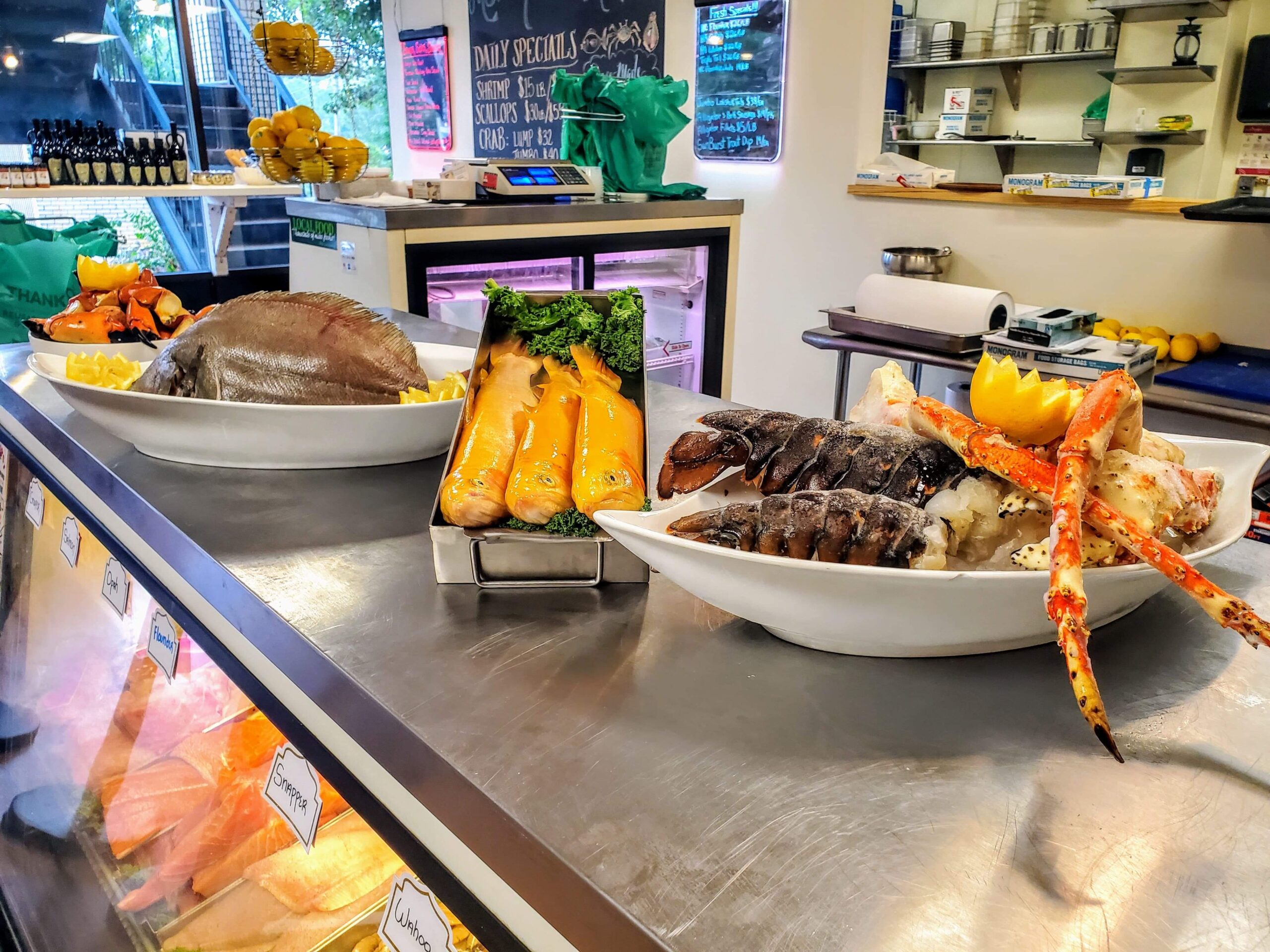 Things were going well and, before long, Sam was ready to open a brick and mortar location. An ideal spot came available across the street from Vinnie's. He chose a promising bank to work with and was told all looked good. On the verge of signing a lease, he received word his loan was denied. "Looking across the road that day, the 4 lanes (of Merrimon Avenue) felt like 8," he described his dream slipping away.
Powering on, working in the parking lot that same day, a regular customer noticed Sam wasn't his usual, jovial self. He confided his disappointment to the patron. After inquiring how much the loan was for, this anonymous 'Angel Investor,' and beloved customer offered to loan him the money he needed. Sam was able to sign the lease in December of 2019.
Just as he was ready to launch Mother Ocean Market, Covid-19 hits. Delayed but undeterred about opening, Sam was able to secure additional funds from the same angel investor to bridge him over until opening day.
Mother Ocean Market opened in April 2020 and the response was astounding. Regulars came in, often buying more than they needed just to show support. Sam began serving lunch by the end of the year. In addition, he envisions expanding into South Asheville, Banner Elk, and Brevard with seasonal service in Lake Toxaway one day. And angel investor, whomever you are, Asheville thanks you very much! It takes each and every one of us to keep Asheville special and local.
*Pro-tip:
Starting this month, Mother Ocean Market is selling the Go Local Card. Use your card there and you can enjoy 10% off your purchase of $20 or more and UNCA students and faculty receive 15% off!