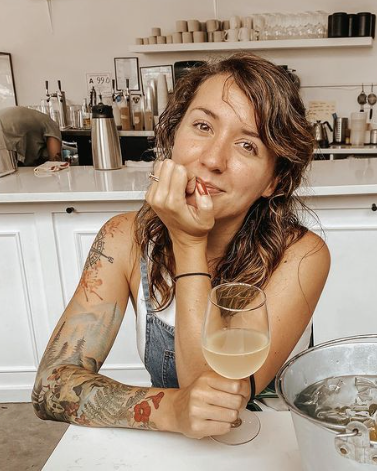 Have you noticed a little pep in our social media step, lately?
We're thrilled to announce Renee Hartwick as the newest member of the Go Local family. Locally born and raised, we've added an adventuress and talented tradeswoman to our crew. Having traveled to the West Coast, across the state and back, we're lucky she always comes home to our beloved Asheville.
Renee started her undergraduate work at Chapel Hill and in 2010, she returned to the mountains to finish her bachelor's degree in Psychology at UNCA. Like many of us, she worked at a couple of restaurants during college and while taking a gap year. She earned her Master's in Counseling at Appalachian State and worked in private practice, exploring human connections.
In 2016, Renee moved to San Diego to be with her husband, Nick, while he finished his time in the Navy. Once his duty was complete, they traveled all over the West Coast, visiting national parks and Colorado before returning to Asheville to both of their families.
Bitten by the travel bug, they purchased a van to scratch their itch for exploring. Renee built her first website to share a blog about their Van Life traveling adventures. She loved the process and knew she had found a job she could do from anywhere.
Renee discovered social media work when she met Micah Pulleyn with Asheville Van Life. Her passion for travel and camping enticed her to do social media for the gathering. "Working within the Asheville community in ways that help to create, develop & support small businesses feels like my love letter to Asheville," she reflects.
Today, in addition to her work for Go Local, she has her own website design business, Hart and Soul Co. She specializes in Squarespace design, working with one client at a time. This allows her to provide a two week turn around from consultation to live website. "Working with one person at a time can limit my income, yet it helps me to connect deeply with my clients. That's my ultimate goal, every time. Not only is it more fun; it results in a more authentic website for their business," she shares.
Her passions are the great outdoors and dogs, especially her Border Collie, Wade. They often take their "babies," their Sprinter van and Wade, to Boone to hike and camp.
Renee is also a mentor at A-B Tech Small Business Center, serves on the board for Asheville AIGA (American Institute of Graphic Arts) as the Business Outreach Co-chair, and continues to be involved with Asheville Van Life.
Renee has been conjuring her social media magic for us since January and  is excited to be an integral part of the Go Local movement. "I already had a card, loved seeing and supporting the movement around town." And now she's officially part of our family.