Essentials: Tags, links, and more
Go Local is committed to increasing the range and frequency of our social media activity in this campaign, and we encourage you to take part as well.
Together we can grow visibility, support your businesses and our region's local economy. More activity and shares translate into more patrons and customers for your business. Take this toolkit, customize it for your brand and audiences. We will help connect you with a larger community of local advocates and do our part to strategically showcase your business on social media.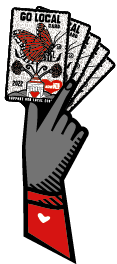 If there's a special event or promotion you'd like to highlight in particular, let us know. And people LOVE photos! Take and share photos of your employees and customers with the card, posters, stickers and graphics and don't forget to tag us.
We will share your posts, help expand your audience and spread the love.
Facebook: @golocalasheville
Instagram: @golocalasheville
Hashtags: #lovelocalavl, #golocalasheville
Links
For card purchases send folks here: https://golocalasheville.com/get-your-go-local-card 
For your listing in the directory: https://golocalasheville.com/directory then filter to find your specific link