Hello Go Local Loyalists,
Ah, spring is in the air!  As I write this, it is 76 and sunny outside! Definitely my favorite time of year.
There is so much going on that it is difficult to choose the topics I want to share this month. So, I'll just jump right in and focus on the ones I think are important. You can be the judge if you think I have chosen correctly!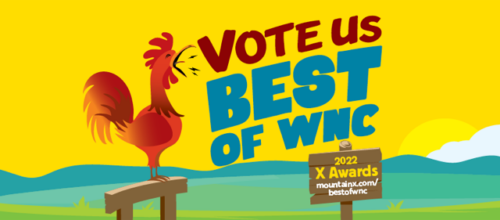 Once again, Best of WNC is here to promote all good things about Asheville!  Mountain Xpress, the sponsor of Best of WNC, is one of Go Local's long-time partners and friends. In our directory, the print, on-line and app versions, you can find all of our members who are selected as Best of WNC…there are 135 businesses who are winners! Currently, 135 of our 566 Go Local businesses (nearly one out of every 4 members!) are 2021 Best of WNC winners. Let's keep that tradition going in 2022! Here is some info provided by Mountain Xpress to cast your vote.
And if you're a business member, there is info here for you to promote the contest and your business!
The ballot is live now, and officially is open through April. Click here to cast your votes.
To get your business on the drop-down menu of choices, go vote for yourself in appropriate categories.
Mountain Xpress has physical assets in its office: posters, table tents, post cards and magnets (in limited supply); they are free, but you need to come get them, unless you are a drop site for our papers. If so, your driver can bring your assets to you (contact Mountain Xpress to set that up.)
They also have advertising opportunities on the ballot website. If you're interested, you call 828-251-1333 ext 1 or email [email protected]
LGBTQ + Diverse Training Workshop Available on YouTube

Go Local strives to be an inclusive, welcoming organization to all local independent businesses who are, or are thinking about becoming, a Go Local member. I was so excited to see that Explore Asheville engaged with HospitableMe, a global leader in inclusive hospitality, to deliver their signature LGBTQ+ diverse audience training program, "Everyone Welcome," to their business partners, including Go Local Asheville.  It was an in-person event held at the Wortham Center last month and now it is available to everyone on YouTube. You can find the presentation here.
Go Local Asheville Sponsored Events
I'm proud to announce that Go Local Asheville is hosting two upcoming presentations on important information no matter if you're a busy local independent business owner or a Go Local cardholder.
The first is a workshop that will feature Just Economics, a Go Local's business partner. This is a free, one-hour on-line presentation to introduce you to the organization that has created the Living Wage Certification Program.
Titled: Living Wage as a Strategy for Retaining Employees, the key topics are:
How is a living wage determined?
What are the benefits of paying a living wage?
How does my business become certified or move in the direction of becoming certified?
Date: April 25, 2022
Time: 6 – 7PM
Workshop leaders: Just Economics Vicki Meath, Executive Director and Eric Smythers, Living Wage Program Coordinator
Zoom Registration: Living Wage as a Strategy for Retaining Employees
The second is a presentation by Vic Isley, President and CEO of Explore Asheville and Buncombe County Tourism Development Authority. Vic will share results of Buncombe County Tourism Development Authority findings of recently released study "2022 Resident Perspectives on Tourism" and discuss the four strategic imperatives that, according to their website, are "informing and guiding the direction of Explore Asheville's program of work and community investments going forward." I've been in quite a few meetings where Vic has shared the direction of the TDA and if you haven't had a chance to hear her discuss these four pillars, this is a great opportunity to learn more. Here are the details:
Date: May 2, 2022
Time: 6-7PM
Zoom Registration: 2022 Resident Perspectives on Tourism Survey Findings
School Fundraisers
Montford Neighborhood NorthStar Academy's Spring Plant Sale – April 30th. See their flyer below. If you're a gardener, or just consider plants eye candy, and want to help MNSA fundraise, don't miss this event…and be sure and use your Go Local card for savings! In addition to plants, they'll also be selling Go Local cards and for every card they sell, 50% of the proceeds will go to MNSA's PTO.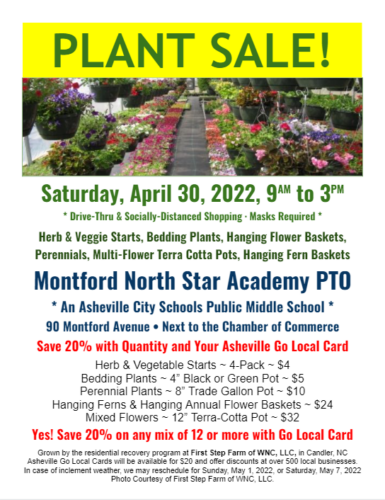 Hall Fletcher Elementary Robotics Team:  Dallas, Here They Come!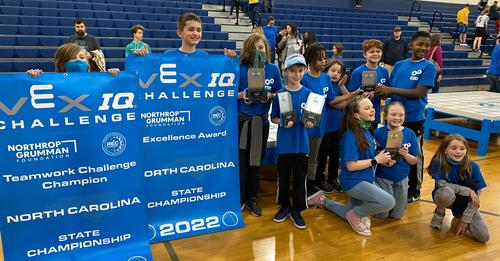 Members of Hall Fletcher Elementary's Robotic Team are on their way to Dallas for the National Robotics Championships. To raise money, they have a GoFundMe page to help pay for travel expenses and are giving away a Go Local card with every donation. They're close to their goal and you can help them achieve it. Go here to donate.
Billie Jean King Cup
Let's Go, Go Local Loyalists! Let's show our support for the Asheville Buncombe County Sports Commission and all the folks involved in bringing this international event to Asheville.  The Billy Jean King Cup will be at Harrah's Cherokee Center Friday April 15th and Saturday April 16th, The U.S. team will host Ukraine in this qualifier round. Billie Jean King herself will be there and take place in the opening ceremony before the first match begins Friday at 1PM. To buy tickets to the match, go here. To learn more about Billie Jean King's visit to Asheville, go here.
Welcome to our Newest Go Local Members
Check out our newest local independent business members and their special offers to Go Local Asheville cardholders. We're so thankful to all of our beloved business members. Welcome to the Go Local Movement!
Words by Weaver  – 10% off standard hourly rate for your first project
Ful Flow Yoga Outdoors  – $10 off 
Oakland Cottage Bed and Breakfast – 10% Off Standard Nightly Rates. Excludes July and October
The Look & The Feel  – FREE Brand + Website Assessment, with $500 Project Credit
The Odditorium  – 10% off food (does not include alcohol)
Western Carolina Chiropractic – First and follow-up visits $40 each ($315 value)If you have any comments, or would like to suggest a story or event to include in our newsletter or on social media, please email me at [email protected]