Happy March, Go Local Loyalists! Ah, March….the month we go back to Eastern Daylight Time (don't forget to spring forward this Sunday!) and Spring comes in like a lion. Many days in February and early March felt like spring, didn't they? Walking my dogs in shorts last month felt very strange. Definitely feeling spring fever for when the days are long, and there is warmth without humidity!  Oh, and go Bulldogs!!

Before "springing forward", I want to say thank-you to all the Go Local businesses that attended our social event last month. I had such a great time meeting so many business members in person as well as seeing others I haven't seen in a while.  I'd like to give a big "We appreciate you" to Archetype for the use of their venue on Broadway, Old School Subs for bringing  some awesome food, and The Hop Ice Cream for providing samples of Peach Crumble Caramel Crunch samples in honor of both Go Local and Black History Month. And also to Iris from Fairy Hair Magic who made people (including yours truly!) smile by adding sparkles and glitter to their hair! Look for more of these social events throughout the year!

And if I can say congratulations to our #828GoLocalChallenge winner, Eaze Dogg, for the 3rd year in a row!  Eaze, also known as eazedoggydogg is shown here holding a French Broad Food Coop bag full of goodies!  We love you, Eaze! And our business members love you, too!

Now it is time to move forward. There is so much I want to share, let's get started!
Go Local is co-sponsoring a Workshop you won't want to miss! 
On March 27th from 9 to noon, Go Local and  The Asheville Chapter of AIGA, the professional association for design, are co-sponsoring Growing Your Brand: How to Hire Local Designers and Marketers" a one-of-a kind workshop that will provide important information on the who, what, when and how to use the local talent pool for your marketing and design needs. Not only will it provide important information presented by members of our local design community, but it'll be a great opportunity to network with other Go Local members. There are excellent speakers lined up for the morning and there'll be plenty of opportunities to ask questions about your specific marketing and design needs.
All the information can be found on our Eventbrite page here.
And…great news! There are discounts if you are a Go Local member and/or an Asheville Chapter AIGA member. If you are one or both, use these promo codes at checkout:
Go Local Member or AIGA member: Use promo code AVL828 for $5 off
Both Go Local and AIGA member: Use promo code AVLBOTH for $10 off
A big thank-you to Mountain BizWorks and Venture Asheville for sponsoring this workshop!
Go Local Night April 18th at Asheville Tourists Game!  Woohoo! I'm so excited to share that Tuesday, April 18th, is the Asheville Tourists Go Local Night! Come watch the Tourists vs. the Winston Salem Dash and be part of the Go Local community! If you're a Go Local business member or cardholder, you can buy a $5.00 reserved level ticket (plus processing fee) on-line using the discount code GOLOCAL. This code if valid for up to 8 tickets. This offer is only good for on-line tickets, not for gate ticket sales.  Here is an image of where you enter the code. When you enter GoLocal the ballpark image will highlight available sections that the code is programmed for. Cool!!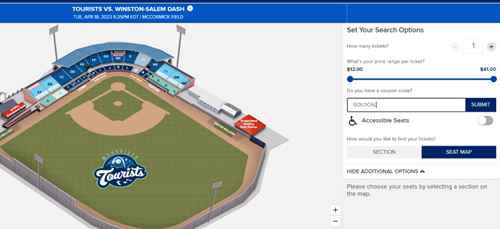 And, if you're a Go Local business member, you can enter your business name to be recognized on the PA system during the game! Join me and other business members to cheer on our local team and enjoy a night at the ballpark!
I can't wait to see you there!
Welcome to our Newest Go Local Members!We're so thankful to all of our beloved business members and want to officially welcome our February 2023 Go Local Members to the Movement. You can find them now in our on-line directory and smartphone app.

Ride High Productions – 10% discount on studio rentals w/ 3 hr. Min.

Matcha Nude – 10% off your order of 50g bag of matcha or larger

Designer Maid – $25 off your first clean for first-time clients 

Shelley Fritz Healing – Save $10 off an initial Healing Session 

Willow's Dream – 15% off gift shop items (excluding hair products)
Things We Want to ShareThere are always so many things we want to share but due to space and reader fatigue, I try and keep it to the ones I believe to be the most relevant to our readers. You can let me know how well I do!

1).  Just Economics recently released their new living wage calculation for 2023. It is now $20.10, up from $17.70, a 13.5% increase. Along with the increase, they have also released a new two-tiered certification process for businesses who want to pay a living wage but can't make that jump in wages over night. Currently, Go Local has approximately 100 businesses that were living wage certified in 2022.

Just Economics is one of Go Local's business partners so we asked them if they'd do a video-conferencing presentation for us to walk through the calculation of how they arrived at $20.10 and the new two-tiered certification process. They agreed and we have a zoom call set up for April 17th at 6PM. Please register here to attend.

2). Asheville offers helpful resources – On the City of Asheville's website, they offer resources that are helpful to you whether you own a business, are a resident, or both. Here are some links for you to bookmark the next time you're looking for information:

Neighborhood Resources
Issues Relating to Homelessness
Tips on Crime Prevention
3). It is Women's History Month! Malaprop's, a beloved business member and business partner (they've sold the Go Local card for years!) just put out a list of fiction titles by women authors. You can find it here.  There are many ways to celebrate women's history month. Go Local has 332 business members that are women owned! If you want to support these businesses this month and throughout the year, you can find them in our app or on-line directory by applying a women-owned filter to your search.
A Look at Asheville Celebrates 20 years! And speaking of women owned businesses, A Look at Asheville, a Go Local business member, celebrates 20 years this August! We are so proud to be featured in the beautiful coffee table publication and partner with an organization that focuses on supporting local. I know some of our business members already advertise in this local publication. But if you aren't currently and are looking to expand your brand awareness to Asheville's visitors and locals, consider partnering with A Look at Asheville. This woman-owned high-quality publication showcases everything from Health & Wellness, Home & Living, Gifts & Shopping, Arts & Crafts, Dining & Nightlife, and Adventure & Attractions. Find the 2023-2024 edition this August! If you're interested, contact Kendra Payne at [email protected].