Happy Go Local Month, Go Local Loyalists!
It's February and you know what that means? As proclaimed by the City of Asheville (read proclamation here), February is Love Asheville/Go Local Month, a time to celebrate and show appreciation for our local independent businesses and their contribution to the vibrant local economy. And we're so excited to share how we plan to recognize this special time, these amazing businesses!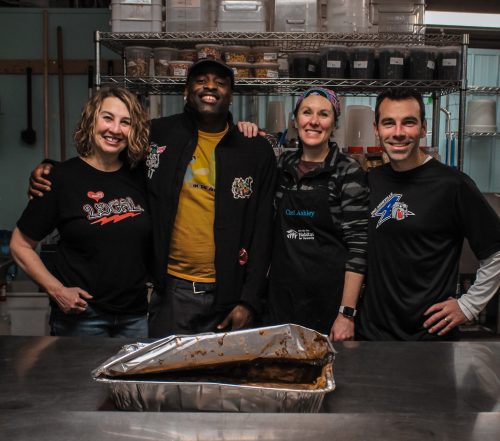 Go Local has teamed up with The Hop Ice Cream and Cooking with Comedy to create a limited edition ice cream to honor both Love Asheville/Go Local and Black History Month. Peach Crumble Caramel Crunch! A mouthful of a name, a mouthful of a flavor! Myself and Renee, our amazing social media maven who is also an awesome photographer, along with Greg and Ashley Garrison, owners of The Hop Ice Cream, and Clarence Robinson, owner of Cooking with Comedy, were at The Hop Ice Creamery this morning creating this mouthwatering concoction, although to be totally transparent, I was part of the cheerleading squad and Renee was the photographer…and we were both official tasters! The recipe: The Hop's vanilla ice cream infused with caramel crunchies and–the center piece–Clarence's homemade world-renowned Peach Crumble. Peach Crumble Caramel Crunch will be available beginning February 7th at the Merrimon Ave. and Haywood Road locations. And don't forget to use your Go Local card and receive 15% off!
To read the full press release, go here.
Welcome to our Newest Go Local Members!
We're so thankful to all of our beloved business members and want to officially welcome our January  2023 Go Local Members to the Movement. You can find them now in our on-line directory and smartphone app.
The West End Bakery – 15% off beverages,full food menu and breakfast pastries
Old School Subs – Free Pepsi product or cookie with purchase of any size sub
Delish The Store – 10% off your first purchase
Integrated Fighting Arts – First class free! $10 off 10 class punch card
Healthier Pets Communications – 10% off for Go Local Cardholders
Single Double Pickleball – Use codes GOLOCAL15 for 15% OFF & FREESHIP @ checkout online
Appalachian Standard – 10% off entire purchase
Ross Farm – 10% off entire purchase
Aviva Pitt, Realtor, Broker, Town and Mountain Realty – FREE Home Staging (sellers) or Inspection Report (buyers)
The Hair Witch – complimentary haircut with any same day color servic
Things We're Excited About
There are always so many things we are excited about and want to share with you, but for this month, I'm going to stay focused on Love Asheville/Go Local Month and share a couple of more things we're doing to loudly and proudly support our local independent businesses.
1). The #828GoLocalChallenge.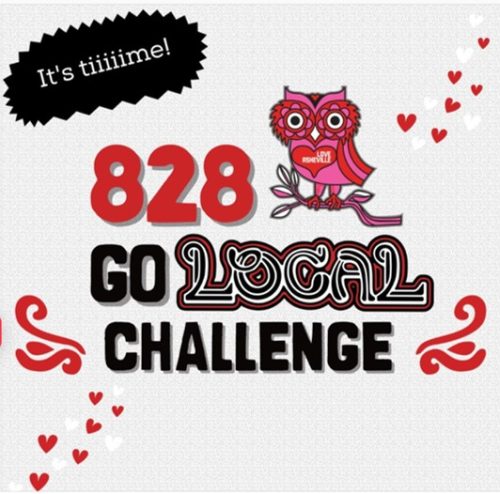 This is our 3rd year for this challenge and we love all of the pics we get to see of our locals supporting our locals!  #828GoLocalChallenge is for both our Go Local cardholders and our Go Local business members. In a nutshell, here is how it works:
STEP 1: Visit 8 independent businesses that take our #GoLocalCard (sooo easy to find on our new Go Local app btw!) during the 28 days of February
STEP 2: Each time you visit a business, take a photo (i.e. of your purchase, a selfie of you in front of the business itself, your food if it's a restaurant…feel free to get creative!)
STEP 3: Post your photos to your Instagram *feed* (not just in your stories, although you'll get a bonus entry if you do!)
STEP 4: Be sure to both: Tag @golocalasheville and *use the hashtag* #828GoLocalChallenge  We'd also LOVE it if you'd shout out/tag the business you visited if they have social media – they love it too, and your visits mean a lot to them!)
STEP 5: Repeat!
Go Local will be tracking all of this awesomeness, sharing your posts, and together we'll shine the (much deserved) spotlight on our Go Local business members! At the end of the month, everyone who has posted will be entered to win some faaaabulous prizes and local merch.
2). For our Go Local Business Members and Business Partners, Go Local is sponsoring an Ice Cream Social on February 21st. We'll be handing out free Peach Crumble Caramel Crunch ice cream and have a few other things in store! I sent an email with all the details earlier this week. If you didn't receive, email me at [email protected] and I'll resend.
3). SAVE THE DATE: On March 27th, Go Local is teaming up with Asheville's AIGA (American Institute of Graphic Arts), one of our awesome business partners, to bring you a morning workshop. Titled "Growing Your Brand: How to Hire Local Designers and Marketers," its purpose is to acquaint you, our local independent business community, with local designers and marketing experts to help build your brand. We'll be putting out more information soon, but wanted you to mark your calendars! And I'll add a big thank-you to our sponsors Mountain Bizworks and Venture Asheville for supporting this workshop! Not only will you learn great tips for how to select designers for specific work, but you'll get to meet some great local talent as well as network with fellow business owners. And as a Go Local member, you'll get a special discount to the event. More to come!!"
If you have any comments, or would like to suggest a story or event to include in our newsletter or on social media, please email me at [email protected]