Hello Go Local Loyalists,
Oh my gosh…we're so excited! The 2023 Print Directory went to press yesterday and will be inserted in the Mountain Xpress you'll find in kiosks around town on November 30th! As we begin our 12th year, it is so exciting to announce that we have over 500 businesses on the 2023 Go Local Card. The list of businesses is incredible as it contains every category, every type of local independent business you can imagine.
We shared our mascot in last month's newsletter. Here is a peak of her on the cover of the Go Local Directory.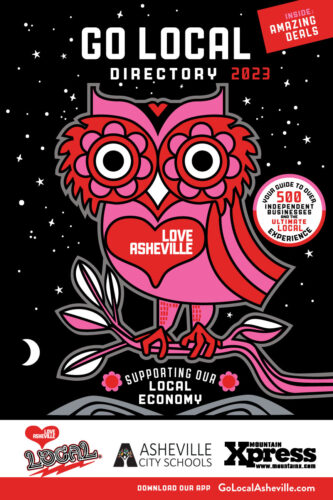 Once again a big thank-you to Jenny Greer Fares, Sound Mind Design, who designed our mascot and the cover of the directory. I'd be really amiss if I didn't also thank Mountain Xpress and all the work they do to create the directory each year. I was there on Tuesday doing a final proof and was in such awe of the MX staff who were putting the final touches on this directory to get it ready for print. We are so fortunate to have amazing partners to work with…businesses in the community that care as much as we do about keeping Asheville special and unique, especially as it continues to grow.
If you're interested in pre-purchasing your 2023 card (assuring you'll receive it as soon as it is released on December 1st) you can order right here on our website.. The printed version of the 2023 card will be available to purchase December 1st through our website and business partners that can be found in the print directory and on our website. The digital version of the Go Local Card will be available on our Go Local app after the beginning of the year. Remember, while the 2023 card is available Dec. 1st, the 2022 card can be used through the end of the year.
Welcome to our Newest Go Local Members!
We're so thankful to all of our beloved business members and want to officially welcome our October and November 2022 Go Local Members to the Movement. You can find them in our on-line directory or smartphone app now and soon in our 2023 print guide!
Revenu – https://golocalasheville.com/business/revenu-b2b-connector-services – $25 to be used towards the purchase of offers on our site
Asheville Massage & Bodywork Sauna & Foot Soak Spa – https://golocalasheville.com/business/asheville-massage-bodywork-sauna-foot-soak-spa – 10% OFF
Big Purple Cottage – https://golocalasheville.com/business/big-purple-cottage – Free initial services consultation
To the Brim Refill Shop – https://golocalasheville.com/business/to-the-brim – 10% off body care products
Well Played Board Game Cafe – https://golocalasheville.com/business/well-played-board-game-cafe-2 $2 off a one-day game pass
Them Bites – https://golocalasheville.com/business/them-bites Email [email protected] for Free 30 min. SEO consult
Appalachian Beer Spa and Massage Lounge – https://golocalasheville.com/business/appalachian-beer-spa-massage-lounge – $10 off
Asheville Community Theatre – https://golocalasheville.com/business/asheville-community-theatre – Online only: $10 off Mainstage Adult ticket w/ code ACTLOCAL
Downtown Books & News – https://golocalasheville.com/business/downtown-books-news – 10% discount on all items
River Arts District Farmers Market – https://golocalasheville.com/business/river-arts-district-farmers-market – Beg Jan 1 free $5 token w $50 token credit card purchase
SAVOR Shrubs Bitters – https://golocalasheville.com/business/savor-shrub-bitters – Receive a free 1 oz SAVOR Shrub Bitters with Online Purchase
Things We're Excited About
Besides kicking off 2023 with our new directory, over 500 businesses and your new Go Local Card, here are a few other things we're excited to highlight in our newsletter this month.
1). Thanksgiving is around the corner! I do try and be thankful throughout the whole year. Since this is the holiday with "thanks" in its name, I especially want to take a minute to thank all of you who support Go Local Asheville, either as a business, cardholder, partner, and/or a subscriber of this newsletter. We have such an awesome community that I'm truly thankful for every day.
I hope you are able to spend time with those who are special in your lives…friends, family, or both this coming week! It's also a good time to remember those who are unable to be with loved ones. A podcast I listen to, Freakonomics, always ends with "Take care of yourself, and if you can, someone else, too." The host, Steve Dubner, started this sign-off during COVID and it stuck. I think it is a perfect sentiment for this holiday season.
2). Cardholder Responses to Go Local Survey on How Locals Feel About Downtown – Spoiler: Parking Stinks!
Over 300 cardholders weighed in to tell us how they feel about downtown and how those feelings have changed since pre-COVID. Approximately a third told us they didn't enjoy going downtown as much as they did pre-COVID and one of the top reasons is parking. So I'm here to share some news about parking that hopefully will make parking a little easier and your day a little brighter.
First, Buncombe County Is Offering Discounted Parking for Downtown Employees! If you haven't read this in the newspaper or on the County website, go here for all the deets. If you would prefer "just the facts", here you go: Effective really soon, (I know they're planning by the end of the year), the County will implement a monthly parking rate of $40 for low income downtown employees at 150 spaces at its Coxe Avenue parking garage! Here are the eligibility requirements:
• Parking Passes may be purchased by individuals
• Program is subject to availability
• Applicants must provide proof of employment and income (approx 80% of AMI)
• A lottery system will be used to determine who can purchase monthly passes
Second, when I shared information on the survey response with the City, they wanted me to be sure and let you know current parking availability. So I'm sharing with you the info they shared with me, which is "Where is parking downtown?" Here is a handy dandy map that shows all the non-metered parking spots downtown.
They also ask me to share this regarding safety: Parking would like to let everyone know that for any of our parking facilities garages and lots we have someone available 24/7 that can drive or escort someone to their vehicles. This service is always available if you feel unsafe for any reason. This service is only available for safety reasons, and those that utilize it should know that we will get there as soon as possible, but it may not be immediate. You can reach our security at 828-778-3216 24 hours a day.
3). Lots going on in the Asheville Arts Scene!
First up, on November 11th, Buncombe County closed its application process for it's Equity Mural Project. According to some folks in the county office, they had a very positive response to the project and the public will be informed of the muralists who received the awards in the coming months. To learn more about this project and to be updated on new announcements, go here.
I'm including this in my newsletter because, like the City and its local artists project, it demonstrates the support of the arts and our arts culture in a very visual way. And speaking of the City's "Art in the Heart" program featuring local artists at public spaces in the downtown area, if you're looking for things to do with guests over Thanksgiving, visit these installations, artwork and performances. And while you're downtown, use your Go Local app to find places to eat, grab a cup of coffee, or do some early holiday shopping!
Okay, one final shoutout. We can't talk about the arts without mentioning the Arts Council who recently changed their name to Asheville Arts. Announced at their recent annual "State of the Arts" address, beginning in 2023:
• A new CREATIVE PORTAL features on the ArtsAVL website will link artists and arts businesses with patrons and supporters through a robust events calendar and member profiles.
• A SmART PASS purchase gives passholders the added benefit of discounts on goods and services at participating arts businesses with proceeds supporting arts programs for local schools.
• And, a free ARTS TROLLEY will make it easier to spend the day visiting all your favorite arts destinations throughout downtown Asheville and the River Arts District.
Go Local Asheville has many artisans and craftspeople who participate in our Go Local program. Any chance you get, whether it's through the Art Council, the City, the County or Go Local, please support the arts community!
4). The Asheville Holiday Parade and Grove Arcade Winter Wonderland this weekend!
And what a festive weekend it'll be as we head into the holiday season. On Saturday, November 19th, Asheville will host its 76th annual Holiday Parade! The parade starts at 11am downtown and now that you have your handy-dandy parking map (see above), you'll know the best places to park, although they do recommend other modes of transportation as it'll be quite crowded. After the parade, head on over to the Grove Arcade and the kick off of Winter Wonderland. The tree lighting ceremony at the Grove Arcade is at 5PM but before then, photos with Santa will be offered from 2 to 4. It's a great time to be downtown with friends and family and once again, be sure and visit the Go Local businesses in the Arcade and along the parade route. To learn more about these events, you can visit the Asheville Downtown Association and Grove Arcade websites. And of course, to visit Go Local businesses, just open your app and use our GPS filter to find the businesses closest to you.
If you have any comments, or would like to suggest a story or event to include in our newsletter or on social media, please email me at [email protected]