Dear Go Local Loyalists,
Wow, Fall is in the air and you know what that means??? Yes, of course, Halloween, pumpkin fests, beautiful leaves, soups made from fall vegetables, shorter days (ugh, not my favorite), and most importantly…the introduction of the 2024 Go Local Asheville mascot! Without any further ado, the 2024 mascot isn't one but two of our cherished pets: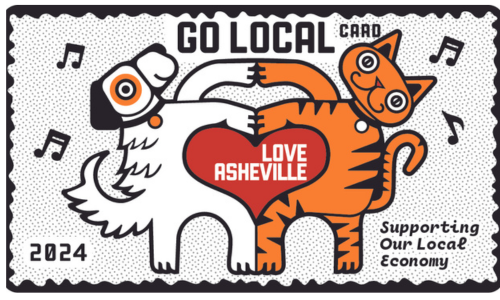 I myself have two dogs and am a self-proclaimed "dog person". But many of my closest friends and neighbors have cats, usually multiple cats, and are "cat people". Instead of choosing one and making enemies for life, we've selected them both to be our 2024 mascots! Using a dog and cat to represent our independent business community makes a lot of sense. Our furry friends are cherished, loyal and show us unconditional love. They bring us joy and laughter, not to mention great content for social media! We are as protective of them as we are our community.
You'll also notice the artwork includes a nod to our music culture here in Asheville. With the musical notes, our pets look like they're dancing around the heart with joy and abandon as they listen to their favorite bluegrass tunes!
As a reminder, Go Local is taking preorders for the 2024 Go Local card.  It will ship to you on December 1st of this year, along with your 2024 Mountain Xpress Go Local Print Directory. To order your card, go here.  Once again, I'd like to thank Jenny Fares at Sound Mind Design for her awesome creativity and design! I'd also like to thank Asheville Print Shop & Screenprinting for donating the printing of our cards again this year! Thank-you Jacob and all the folks at APS!!
Welcome to our Newest Go Local Members!
It wouldn't be the Go Local newsletter without welcoming our newest members. Help me officially welcome our September 2023 Go Local Members to the Movement.  You can find them now in our on-line directory and smartphone app. 
Worthie Photography Co. – 15% off your first session (any package)
Win Win Storage – $20 off first month's rent!
 Starboy Creative – $500 off ANY Web Design Package!
 La Rumba Restaurant – 10 % off
 Bath and Bones by Patton Avenue Pet Company – 10% off pet supplies
 Asheville Sonic Blessings – Buy one get one free, or 10% off individual or group session
 Chlorophyll – 10% off purchases
Medicaid Expansion Enrollment Begins December 1st
According to a recent press release by North Carolina Department of Health and Human Services, Medication expansion will begin December 1st of this year, giving more than 600,000 North Carolinians access to health care. Medicaid Expansion increases the eligible population to adults aged 19-64 who have incomes up to 138% of the federal poverty level. For example, expansion gives health care coverage to single individuals making under $20,000 a year. Likewise, a family of three earning under $34,000 combined will now be eligible. I'm including links to the press release and Frequently Asked Questions. In addition, the good folks at Pisgah Legal Services want you to know if you need health insurance, they will try to find a way to help. Call 828-210-3404 for more information and to schedule an appointment for free help. You can also visit https://www.pisgahlegal.org/free-legal-assistance/healthcare/.
This is big news and will impact many of our local independent business employees. Please share this will your staffs and anyone else who you think this will benefit.
'23 Best of WNC Recognizes Many Go Local Members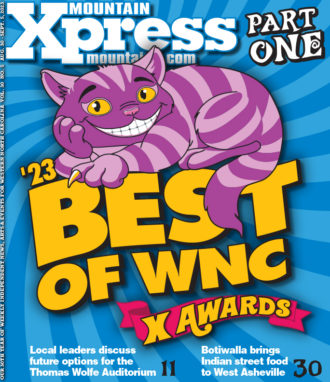 Just as I was sending out last month's newsletter, Mountain Xpress was releasing its 2023 Best of WNC edition. Besides the MX publishing the Go Local Directory and the first year Go Local Business-to-Business member pullout, this is our favorite edition because it also features so many Go Local members! Too many to name here, but I wanted to congratulate all of our members who were recognized this year. If our 2024 Directory, you can find  our "Best of WNC Winner in Mountain XPRESS 2023 Reader Poll" members by looking for this icon:

In 2022, 150 business members  or 25% of our total membership, were a "Best of WNC" Winner. In 2023, we're still counting but could be even more!
If you missed these editions, here is the online versions,  Part One and Part Two. Enjoy! And thank-you Mountain Xpress for being such an amazing partner!
Congrats to Go Local Partners' and Members' Chamber Awards
As part of the Chamber's 125th Anniversary celebration, which I included in last month's newsletter, they awarded 13 local nonprofits with $10,000 donations each. Congratulations to all the recipients, but I'd like to do a special call out to our Go Local business partners and members who received this honor:
To all of the recipients, congratulations on this amazing honor!
The City of Asheville Hosts The Homelessness Learning Series for the Asheville Community
The City of Asheville is offering a 3-session series on homelessness I wanted to share with my readers.  They're going to be held at Pack Square Library in October and November. The first one for October was this past Tuesday (sorry, I just found out about them!) and since they'd like you to go to all 3, you may want to put the November sessions on your calendar. Here is the link with all the details.
Those of you who read my newsletters, and specifically makes it past the new members section, have probably noticed I tend to include a lot of information on the City and County. I know a number of people who work there and they are smart, passionate, caring people who do a lot of good work for our city. I love to share what they do, but I also believe a well informed community is vital for Asheville, including our local independent business community. Anthropologist Margaret Mead said  "never doubt that a small group of thoughtful, committed citizens can change the world; indeed, it's the only thing that ever has."  Couldn't agree more!
If you have any comments, or would like to suggest a story or event to include in our newsletter or on social media, please email me at [email protected]