Dear Go Local Loyalists,
It is such a beautiful time of year, not only for the leaves, the cool crisp mornings, and the perfect fall days. It's also because our 2024 Go Local Directory (more info at the end of the newsletter!) will be distributed by Mountain Xpress in its November 29th issue!  Look for it in your nearest MX kiosk in and around Asheville and Buncombe County.
We're also in the process of finalizing our new point of sale materials so our Go Local members can be found and recognized as a local independent business. Look for these stickers on windows and doors, as well as on websites of our local independent businesses.
As we enter into the season of thankfulness, I'm just so thankful for all of you who make up our community and who support our local independent businesses.
While on the topic of being supportive, for those of you reading this newsletter who own a business downtown or are a resident downtown, I'd like to ask you to take a few minutes to complete the survey you can find here. The purpose of the survey is to capture your feedback on creating a BID (Business Improvement District, description in the survey) for downtown.  The small amount of time it'll take to do this will have a large impact on the future of downtown.
Welcome to our Newest Go Local Members!
This month, we have over 20 new businesses to introduce you to and we're excited about each and every one of them! Help me officially welcome our October 2023 Go Local Members to the Movement.  You can find them now in our on-line directory and smartphone app and in our 2024 print directory being distributed November 29th.
 
Asheville Custom E-bikes – 2 for 1 E-bike rental! Free tune-up w/ E-bike purchase.
Asheville Integrative Psychiatry – 10% off initial appointment (max value $60)
HeyDay Musical – 20% off all Heyday merchandise
Elder Dragon Coffee Shop – 10% OFF for Locals, 15% OFF for Teachers, show us your IDs!
The Nerd Dungeon – 10% OFF Purchase
Epic Cycles – 10% off any one regularly priced item (bicycles excluded)
Grateful Roots Market & Deli – 10% off any sandwich, wrap, or salad
Luna Light Studio AVL – Free Consultation & 10% off your first service with Carla
Pegram Builders – 5% off our design package
Solara Awakening Coaching and Wellness –  20% off your first session with your GoLocal Card
Ragon Creative – 50% off Google Business profile setup, FREE SEO Consultation
Asphalt Resurfacing Technicians – Show your go local card for $100 discount on asphalt repair!
All Bodies Movement and Wellness – 15% off first purchase
Four Seasons Plumbing – Waived Dispatch Fee ($79 value) for Go Local Card Holders!
Hello Gorgeous! Professional Bra Fitting & More – 10% off purchases of $100. Some exclusions apply.
Affordable Acupuncture of Asheville – Intake fee waived, first treatment for the price of a return
rEvolve buy-sell-trade – 10% off purchase of non-vendor items
Botiwalla by Chai Pani – Free chai with the purchase of entree (M-F lunch only)
Burning Sage Yoga – Free yoga class to first time students
The Horse Shoe Farm – 10% off an Integrated Wellness Massage at The Stable Spa
The Silo Cookhouse at The Horse Shoe Farm – 10% off dinner or brunch at The Silo Cookhouse
Things We Want to Share
77th Annual Downtown Holiday Parade
On November 18th the Asheville Downtown Association, along with the City of Asheville are again hosting one of our most beloved traditions…the Downtown Holiday Parade. And I'm proud and honored to be one of the judges this year!
If you haven't attended or participated in this parade, it is so much fun and a great way to ease into the holiday season. The parade starts at 11AM and afterwards, from 2 to 4, you can have your picture taken with Santa at the Grove Arcade. I hope to see you all there!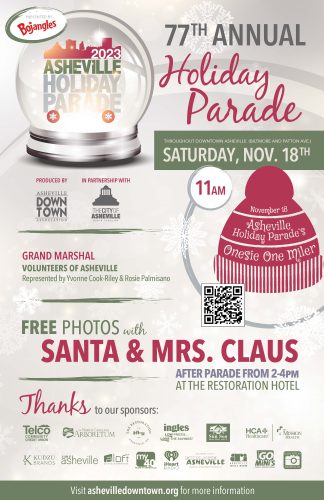 Reminder: Medicaid Expansion Enrollment Begins December 1st and Pisgah Legal Wants to Help!
I included this information in last month's newsletter, but it is important for those in our Go Local community, including business members, their employees, and our cardholders, so it bears repeating.  Medication expansion will begin December 1st of this year, giving more than 600,000 North Carolinians access to health care. Medicaid Expansion increases the eligible population to adults aged 19-64 who have incomes up to 138% of the federal poverty level. For example, expansion gives health care coverage to single individuals making under $20,000 a year. Likewise, a family of three earning under $34,000 combined will now be eligible.
Local nonprofit Pisgah Legal Services can help people in Western North Carolina enroll in Medicaid and understand their options for coverage as soon as expansion launches. The nonprofit's certified Navigators help local people find quality, affordable health insurance plans. Pisgah Legal also helps people who have had their Medicaid terminated during the unwinding period that began in April 2023. If you or someone you know has lost coverage, Pisgah Legal can help you determine if you're eligible for a plan on the Healthcare.gov Marketplace and can help you access legal resources.  Pisgah Legal's NC Medicaid Ombudsman Program can help current Medicaid beneficiaries who are experiencing problems with their plans.
To make an appointment for free help enrolling in Medicaid or exploring your options, visit pisgahlegal.org/health or call 828-210-3404.
Congrats to Go Local Business Members Nominated for Chamber's WomanUp Awards!
Go Local's women-owned businesses (defined as 50% or more ownership) make up 2/3rds of our members. We are so proud of all of them everyday but today, we'd like to recognize Go Local Members who were nominated for Asheville's Chamber of Commerce WomanUp awards. The award ceremony took place last week and I'd like to take some space here to congratulate all of the nominees and winners, and I'd like to do a special call out to our Go Local members…we're so proud of you!  Below are the categories and Go Local Business member women-owners who were nominated.

Woman Entrepreneur of the Year:
Woman Executive of the Year:
Outstanding Woman Nonprofit Leader:
Impact Award:
I'd also like to let Brandy Mills know what an amazing job she did as keynote speaker. Brandy and I met a while ago and I found her to be warm, passionate, committed to her family and community and an amazing business woman. She is the founder of Woman Strong. To learn more about their group, visit their facebook page here.
2024 Go Local Directory Available November 29th!
In just a few weeks, the 2024 Go Local Directory will be in Mountain Xpress newspapers all around town.  Our business partners, who you can find here, will have the 2024 Go Local cards (and directories) available around December1st.  This year, we have close to 600 businesses participating, offering discounts and perks to our Go Local cardholders.   A request. When you get your Directory, take time to review the ads. Only Go Local business members can advertise in the directory and through the ad sales, Mountain Xpress is able to pay for the production, printing and distribution of the Directory. It truly takes a village to bring this together and by shopping local, you're supporting this initiative. Thank-you to our Go Local members who bought ads in this year's Directory.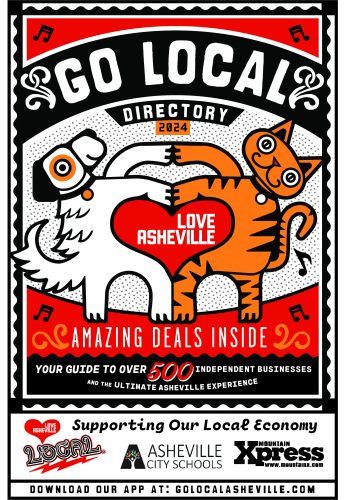 As a reminder, Go Local is taking preorders for the 2024 Go Local card until November 22nd.  It will ship to you on December 1st of this year, along with your 2024 Mountain Xpress Go Local Print Directory. To order your card, go here.  Once again, I'd like to thank Jenny Fares at Sound Mind Design for her awesome creativity and design! I'd also like to thank Asheville Print Shop & Screenprinting for donating the printing of our cards again this year! Thank-you Jacob and all the folks at APS!!
If you have any comments, or would like to suggest a story or event to include in our newsletter or on social media, please email me at [email protected]